The Aeon Home ribbon houses the actions performed in processing Special Collections requests and Activities requests. There are three types of ribbon used in Aeon: the standard ribbon, the search ribbon, and content-sensitive ribbons.
The Standard Ribbon
Standard ribbons contain static buttons, icons, and commands that do not change based on the actions being performed. The Home ribbon is a standard ribbon. It contains a Home tab and a Manage tab. The image to the right shows the Home ribbon. The processes available on each tab are below.
Commands on the Home Tab
New: User, Activity, Process
Search Boxes: Search by Requests, Users, Activities
Commands on the Manage Tab
Manage: Web Alerts, Addons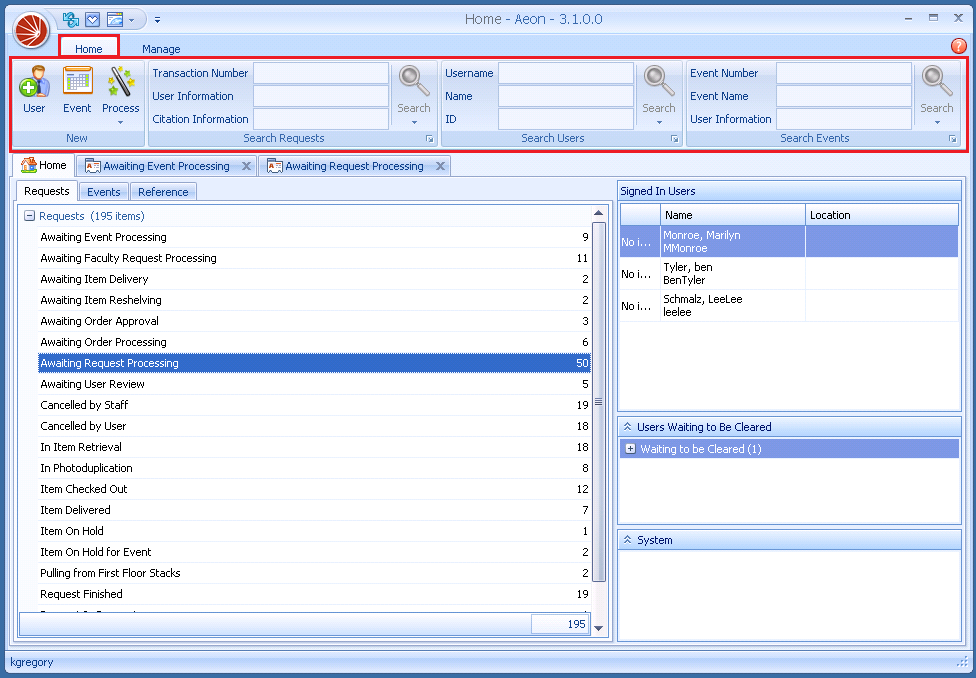 The Search Ribbon
From the home page, staff can immediately do a quick search to find a particular list of requests, users or Activities. The edit boxes each search a variety of fields; staff can view which criteria are searched by hovering over the edit box. Search results requests and Activities appear in separate tabs on the home page so staff can easily flip between results without opening several forms.
Search Requests: Lists all requests by Transaction Number.
Search Users: Opens the specified User Information page.
Search Activities: Retrieves Activities using Activity Number or Activity Name.
Custom Searching: In addition to the basic searches, staff can expand the ribbon to a custom search form and search all the database fields, simply by clicking the Custom Search arrow in each search box. These custom queries can be saved and reloaded later or shared with other staff or institutions. The results can also be exported in a variety of formats.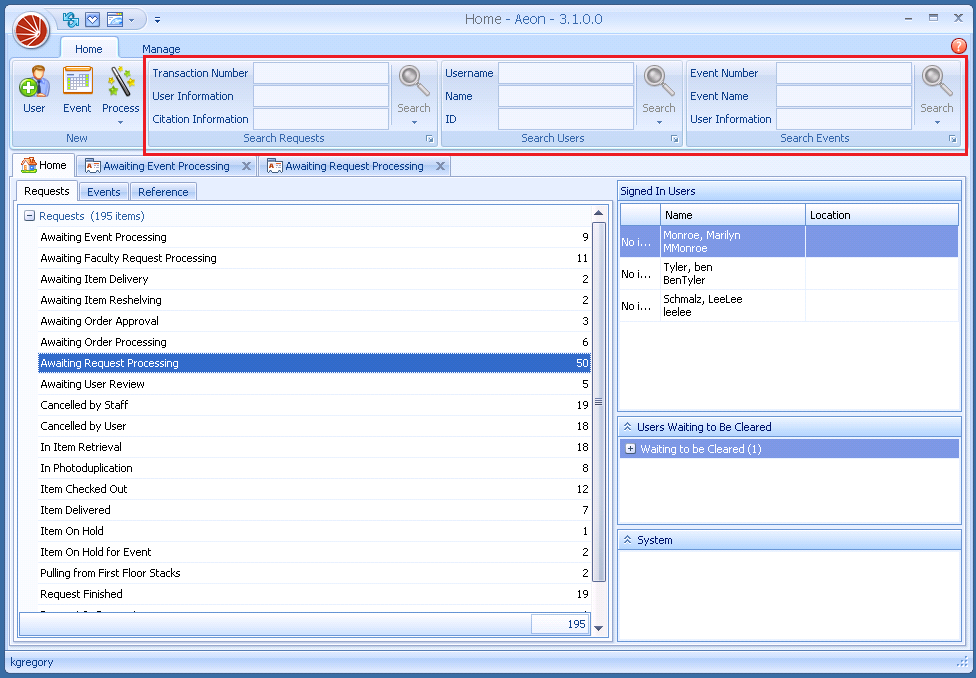 The Context-Sensitive Ribbons
In addition to the standard ribbons, Aeon offers context-sensitive ribbons that appear dependent on the status of the request, Activity or user. These ribbons come to the foreground automatically and help prompt staff toward the next step in processing. The figure shows a content-sensitive ribbon for a request in the Awaiting Request Processing queue. Note the highlighted ribbon tab at the top of the page, (in this case, Process) informing you exactly where you are within the system.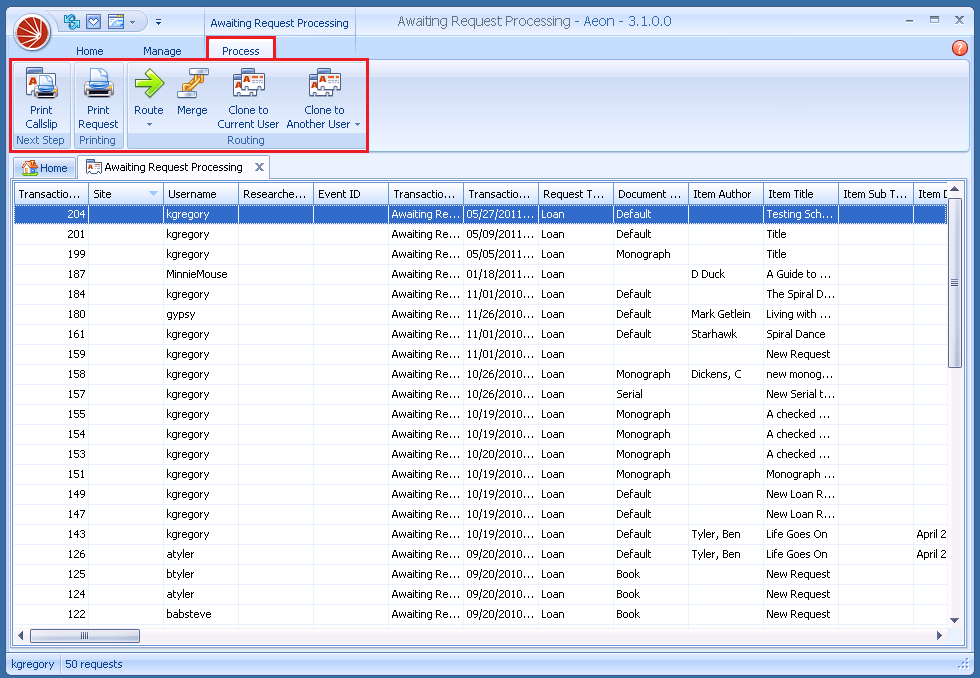 The Tab Bar
The Tab Bar denotes the ribbons available under the tabs. It also indicates which tab is currently selected by highlighting the active tab and displaying it connected to the currently viewed ribbon. Clicking a tab will select and open the ribbon under the tab. In addition, double-clicking any of the ribbon tabs causes the ribbon to be minimized or maximized (if currently minimized). The two tabs available on the Aeon Home page are the Home tab and the Manage tab. The Home tab connects to The Home Ribbon. The Manage tab houses Web Alerts and Aeon Addons.