You can check items out to your customers using the Batch Process: Check Item Out form. This will allow you to quickly check out one or more items at the same time. You can also check items out by opening the Transaction form and routing the request to the status of Checked Out to Customer.
From the Borrowing ribbon on the Main screen, click Check Out. This will open the Batch Process: Check Item Out form.
Locate the item by scanning or entering the Transaction Number or by searching for the transaction.
The transaction will be added to the process queue. To remove it from the queue, click Remove Item.
Once you have added all items to the queue, click Process Queue.
All items in the queue will be routed to Checked Out to Customer.
If you want the items to be checked out automatically when you scan or enter the Transaction number, click Auto Process.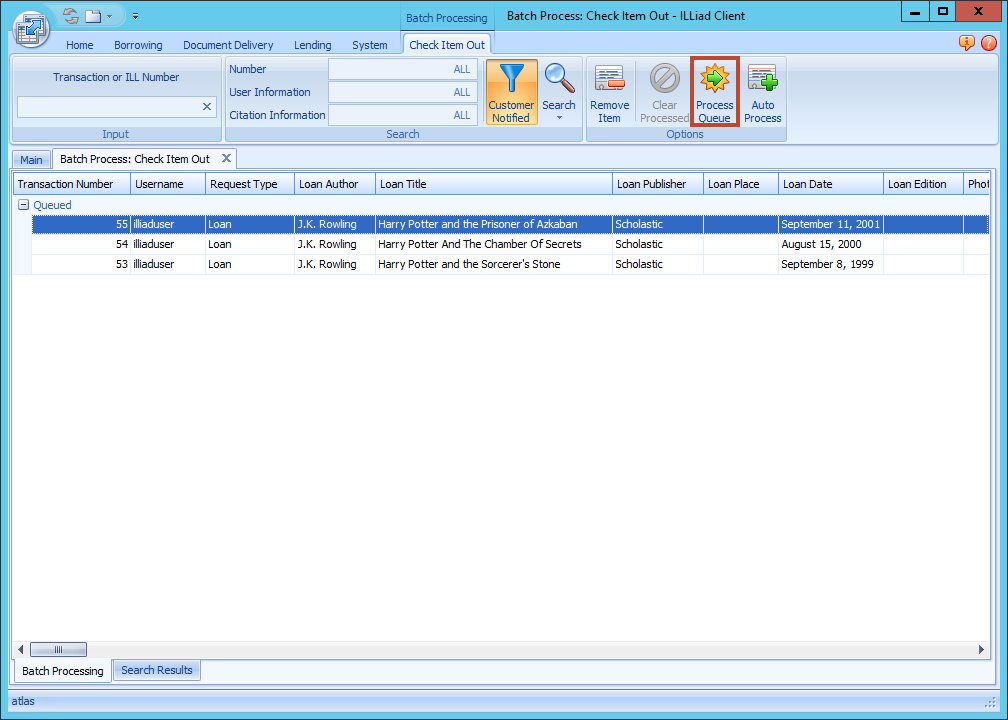 The Customer Notified button is toggled on by default. This restricts the search for the transaction to only items at the status of Customer Notified via E-mail or Customer Notified via Phone. You can toggle this off by clicking the Customer Notified button.
Locating the Transaction Record
There are three methods you can use to locate the transaction record for the item you wish to check out:
Scan the Barcode on the Printed Label.
Manually enter the Transaction Number in the Transaction or ILL Number field and click Enter.
Search for the transaction record using the Search box.
If you do not know the transaction number, you can search for a request from the batch processing screen using the Search box located on the ribbon. Search results will display on the Search Results tab, visible on the bottom left of the grid. Locate the correct transaction from the search results and double-click. The transaction will be added to the Batch Processing queue.

Continue Reading