Document Delivery requests are submitted to the system in the same ways as Borrowing requests and initially display in the ILLiad client in the Borrowing module. During processing, the requested items are identified as being owned by the local library system. The decision about whether to route to Document Delivery or Cancel the transaction as owned is often based on patron type, patron location, and whatever other criteria that an institution wishes to govern the Document Delivery process.
Routing Owned Items to Document Delivery
The next step in the process is to route the items owned locally to the Document Delivery module. This is done by choosing the Route to Document Delivery icon on the processing ribbon. There is no need to import requests into Document Delivery. They will simply show up in Document Delivery in the Awaiting Document Delivery Processing queue.
Open the request you want to send to Document Delivery.
Click on the Route to Document Delivery button.


To route the request to the default Doc Del queue (Awaiting Document Delivery Processing), click the arrow on the button.
To route the request to a specific queue within Doc Del, click the lower half of the button, then click the name of the queue you want to route the request to.

The request will move to the Doc Del module.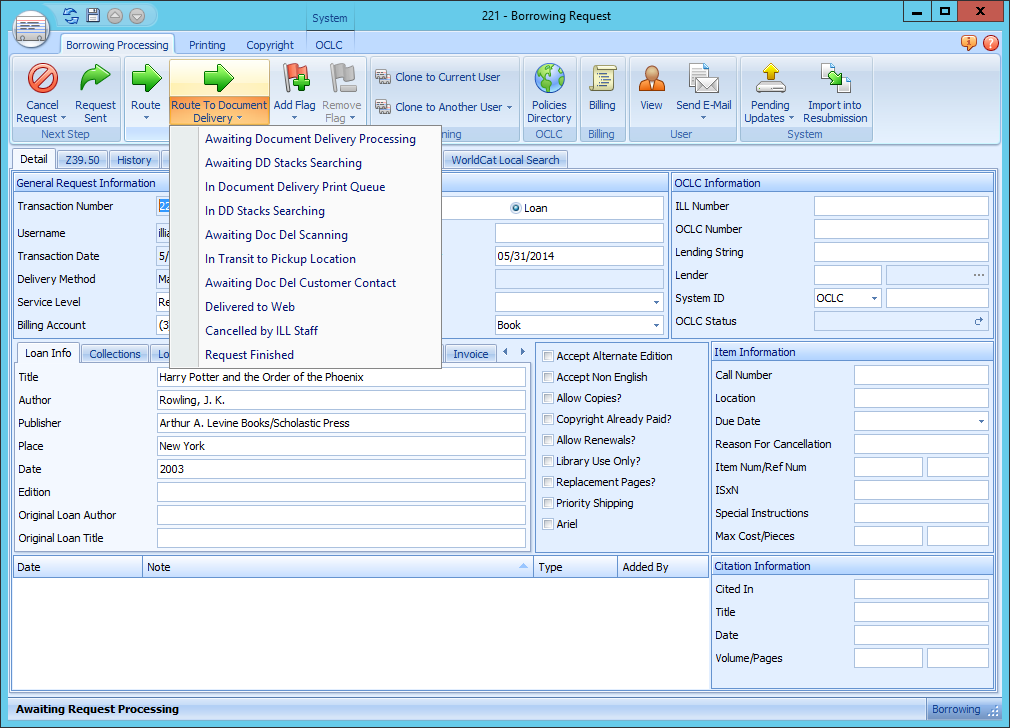 Continue Reading
| | |
| --- | --- |
| Previous Step: | |
| Current Step: | |
| Next Step: | |