Held Request Processing allows ILLiad to hold requests until a certain time. This is especially helpful when there are more requests of a specific type that can be processed at once, during the holiday season when many ILL offices shut down, or when you are waiting for more information from a customer. ILLiad will allow you to search a request and then hold it until processing can be completed.
Holding a Request
Save any information in the request before sending it to the hold status. This will allow you to save the OCLC Search information in the request so that when you process it later, you won't have to search for it again.
Open the request you want to hold.
Click Route, then select Hold Request.
The Hold Request Date screen will be displayed. Enter the status (time) to finish processing the request. (Ex. Christmas, 2014, 1/5/2015, etc.). This will place the request at a Request Held until _____ status.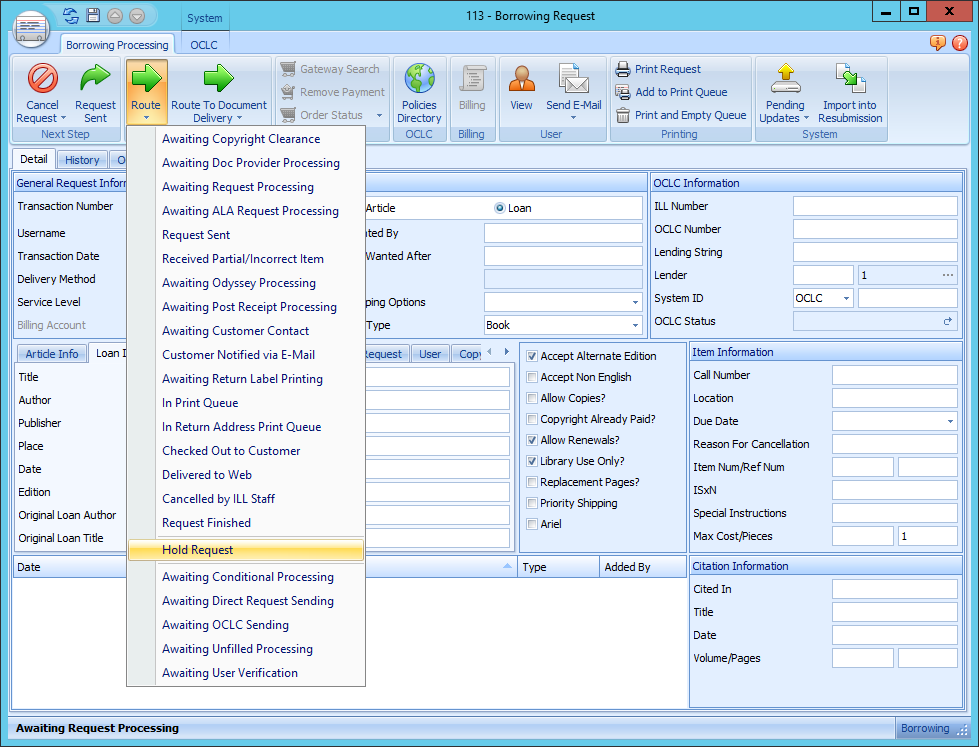 Processing a Held Request
Double-click on the Request Held until ____ queue to view the held requests. Select a request from the list to process.
Double-click a request to bring up the Request Form. Proceed with searching and sending this request as normal.
Continue Reading
| | |
| --- | --- |
| Previous Step: | |
| Current Step: | |
| Next Step: | |