If items appear to be "stuck" on the Electronic Delivery Processing Screen and, for whatever reason, they cannot be processed and delivered electronically, you can manually clear the screen. Performing this action will erase ALL Items on the Electronic Delivery Processing Screen. You will want to process all legitimate Electronic Delivery items through the system before doing this. Only the "stuck" item(s) should be visible on the screen.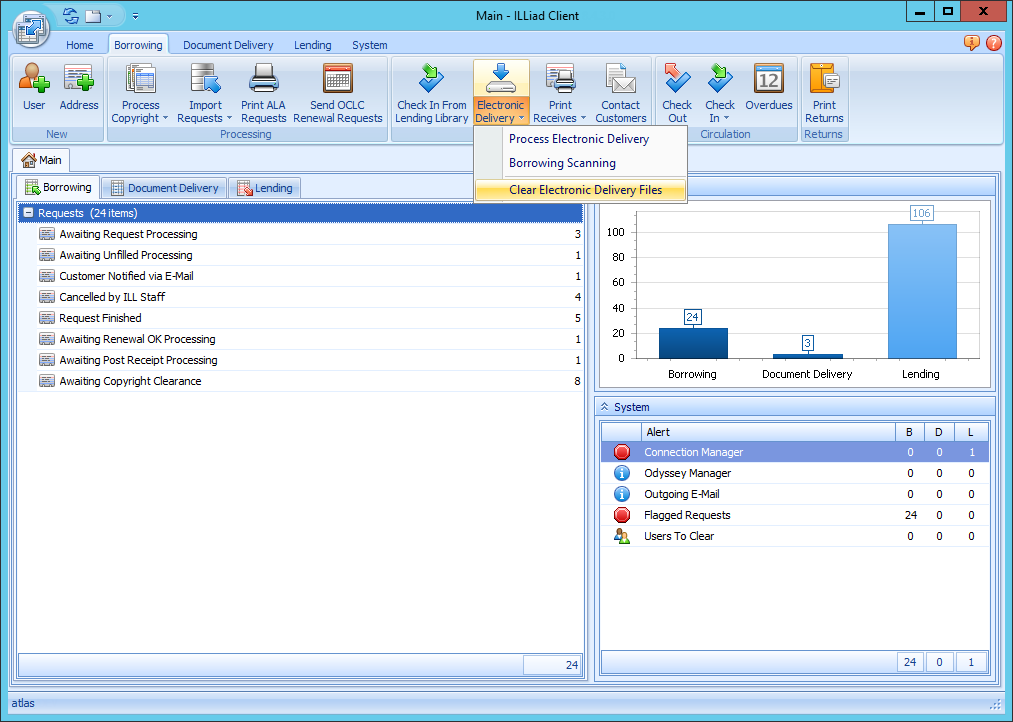 Clearing the Form
When nothing is left on the Electronic Delivery Processing Screen but the file that doesn't really exist, go to the Borrowing ribbon on the Main Page of the client and select Clear Electronic Delivery Files. This should clear any stuck items on the screen and ready the client for the next Electronic Delivery file import from Ariel or Odyssey.
Routing the Stuck Transactions
When Electronic delivery items are cleared using the Clear Electronic Delivery Files button, the status of the transactions is unaffected. They will still be at a status of In Electronic Delivery Processing. The suggested means of dealing with a request like this would be to pull up the Request Form (by double-clicking the status and choosing the individual transaction) and then Route it to the appropriate status. The status to which you route this transaction will depend upon what needs to happen in order to complete the transaction.