Before enabling billing in borrowing, please contact support at support@atlas-sys.com. Enabling billing requires Customization Manager changes, changes to all user records, and significant web changes.
All Billing for Borrowing and Document Delivery is done through the Billing Manager. See ILLiad Billing Manager for instructions on billing your customers. Through the Customization Manager, you can enable or disable ILLiad's billing functions for Borrowing. Billing for Borrowing Requests (BillingActive) must be turned on in the Customization Manager for any Billing processes to be possible. If Billing is turned off, the Billing icon on the Request Form ribbon and the Billing Account field will be greyed out and inactive and the Add Billing Charges Form will not appear.
When Billing is Enabled
ILLiad Billing for Borrowing allows your users to set up accounts to which transactions may be billed. It also allows you to set up default billing amounts and will let you notate billing charges during the check-in process. These processes create several Billing tables in the database, to which you can link to generate invoices or send to another system for processing. Billing is highly customized for many sites. This is a general reference guide for Billing. Your site may operate differently.
Changes to the Web User Interface
When Billing has been enabled, several changes are made to the web pages your users will see.
Edit Account Information
ILLiad can automatically create a new account for all registering users by creating entries in The default billing account can be specified by NVTGC (shared server site code or delivery location) and Status. The account is created immediately after the user record is created and it can display to the user on the EditAccountInformation.html page. This also allows you to edit the EditAccountInformation.html page to not allow customers to create more accounts and just display their account information or any other welcome message for new users.
From the ILLiad Main Menu Web Page, a new page is added called Edit Account Information (EditAccountInformation.html). Users can set up as many different accounts as they would like using this screen. This screen is accessed via the Change Accounts button under the Tools menu and is also displayed automatically after the User Registration page is completed successfully.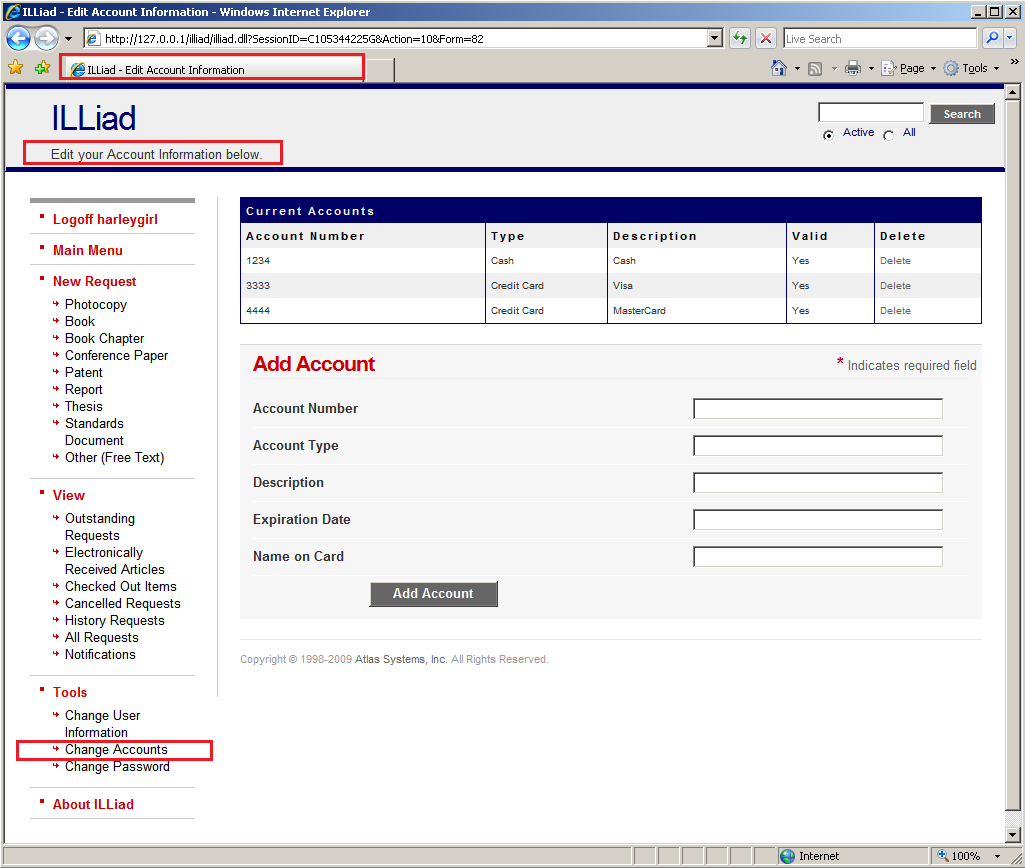 Changes to the ILLiad Client
When Billing has been enabled, several changes are made to the ILLiad Client that the ILL Staff will see.
Differences on the Check In from Lending Library Screen
Billing information is attached to the record when the check-in process is completed. When an item is searched and selected on the Check In from Lending Library Screen, the default billing amount is selected for the request type and appears on the Add Billing Charges Form. You can make changes to the amounts and quantities charged at this point. Click the Recalculate button to recalculate the amounts. Once you have the Total charge correct, click the Charge button. This will store the billing information in the database for later processing.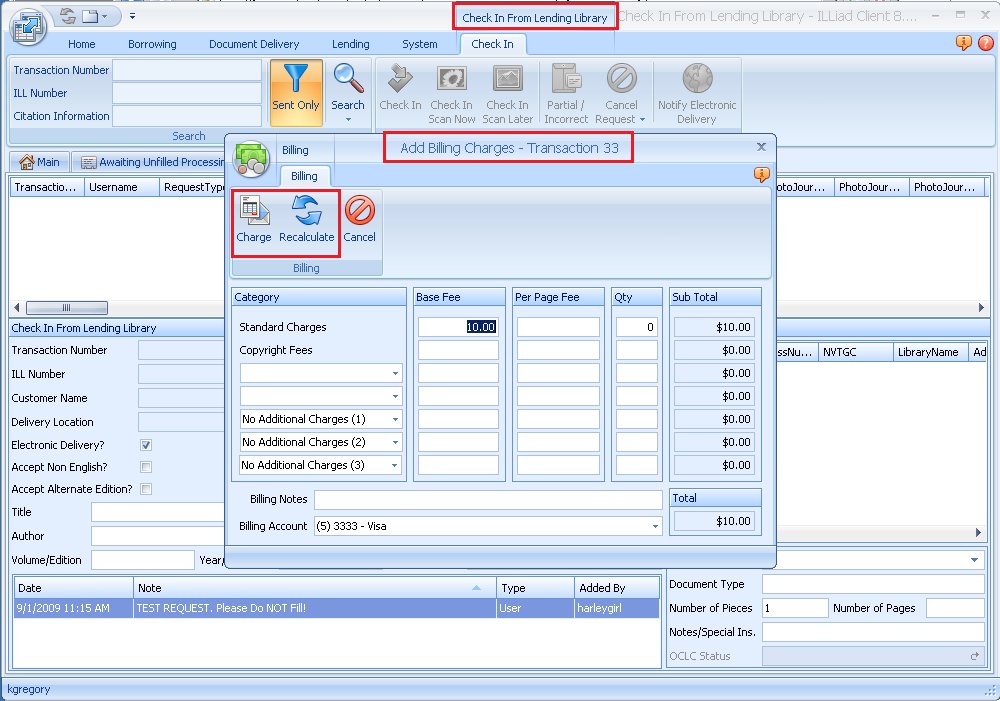 Viewing an ILLiad User's Billing Accounts
When Billing is enabled for Borrowing, the User Form will display with an added Account Information section included in the tabs. Here, you can view the accounts that a user has set up. You can see accounts marked as inactive as well as mark inactive accounts as active. ILLiad assigns an InternalNo (Internal Number) to each account that is created; this number, while is not visible or needed by ILL Staff, is used in background billing processes.