Once items have been successfully searched in your OPAC, you can print Pull Slips and/or Labels to go with the items. Depending on the nature of the items requested and your institutional policies for Interlibrary Loan, you may need to print one or both of the following:
Article Slips. LendingArticleSlips.doc (uses the StacksP.xls legacy file)
Loan Labels. LendingLoanLabels.doc (uses the StacksL.xls legacy file)
Loan Slips. Lending Loan Slips.doc (uses the StacksL.xls legacy file)
The documents associated with a particular ILLiad print process are set by the institution through the Customization Manager. The documents are customizable.
Merging templates to documents is done automatically in ILLIad. You do not need to manually merge documents unless you are batch printing.
Printing Labels and Slips
To print slips and labels for all items in the Awaiting Stacks Searching queue:
On the ILLiad main screen, click the Lending ribbon then Print Stacks Search Items.
To print only articles, choose Print Stacks Search Articles from the button's drop-down menu. To print only loans, choose Print Stacks Search Loans.
ILLiad will proceed with the Lending Stacks Search print process according to your Print Configurations.
If this is the first time you have printed these documents, or if you have chosen in Print Configurations to be prompted to view and edit your Lending Loan Labels, for example, the popup window ILLiad Printer Settings will appear.
Of course, if you have configured your settings not to prompt you with the Printer Settings popup, the document will print automatically when you click Print Search Stacks Items or one of the submenu options. You will see confirmation that the print action was performed.
If you choose not to view the merged document before printing, clicking Print will print the document to the printer set up for this purpose (labels or paper, color printer, etc).
If you elect to view your print template and documents or make edits to the document, the template and corresponding Word documents files will open. Changes can be made by printing the document and then closing both the template and the document without saving the files.
Note that the LLiad Client will open each document based on the transactions to be printed. Thus, if no articles have been checked in, any designated article-specific documents will not open.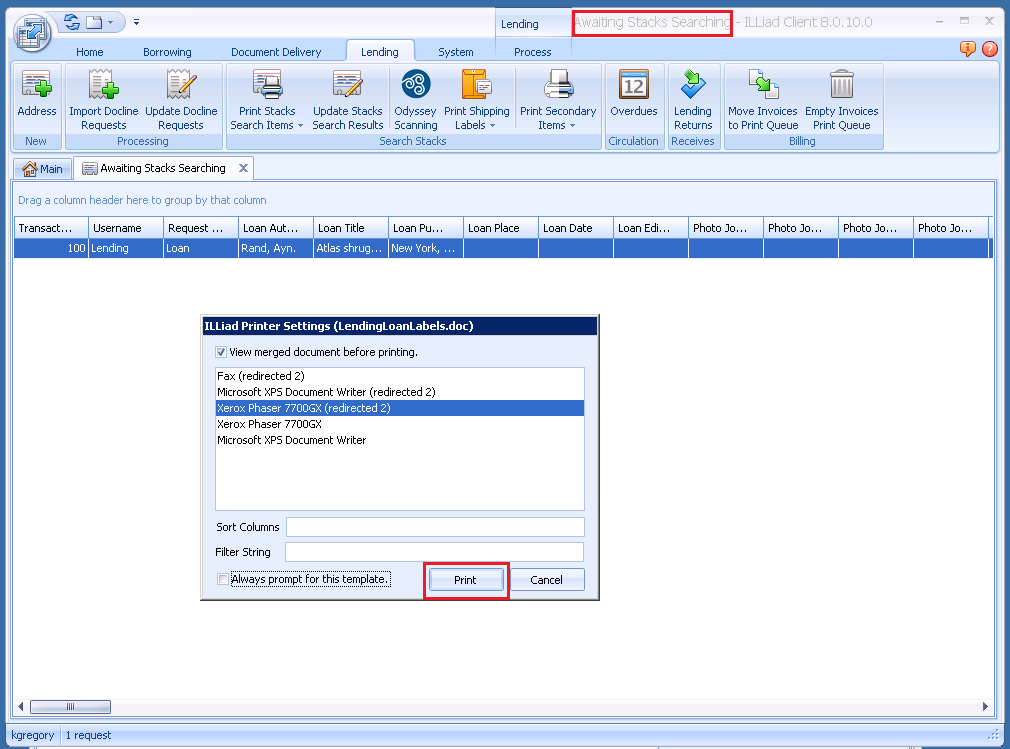 When you have successfully printed each document, close them without saving them. Refresh the ILLiad Main Menu by clicking the refresh button. You will see that the transactions just printed have automatically been cleared from the Awaiting Stacks Searching print queue and are now in the In Stacks Searching queue. Distribute the printed documents to any other employees who may be responsible for retrieving certain types of these requests as applicable to your institution's ILL processing.
Reprinting Items
See Reprinting Documents to learn how to reprint one or more documents from the ILLiad client.
Continue Reading
| | |
| --- | --- |
| Previous Step: | |
| Current Step: | |
| Next Step: | |