The Reasons for Cancellation that display in the ILLiad client can be changed in the ILLiad Customization Manager. In the Customization Manager go to Borrowing | Cancellations | ReasonsForCancellation. The table will display in the Customization Manager, showing the Reasons and any notes associated with those reasons.
Adding a Reason for Cancellation
Click New Record. The Edit Row window will open below the table.

Enter the values for the new reason:

| | |
| --- | --- |
| ReasonNumber | The reason number. |
| NVTGC | This will be filled in automatically. |
| Reason | The reason text |
| DefaultNote | The note that will display after the reason text |

Click Save. The new reason will be added.
You can also create a new reason by clicking Copy Record and editing the information from an existing reason.
In the ReasonsForCancellation table, the max length for the Reason is 150 characters, the max length for the DefaultNote is 255 characters, and the max length for a History entry is 255 characters.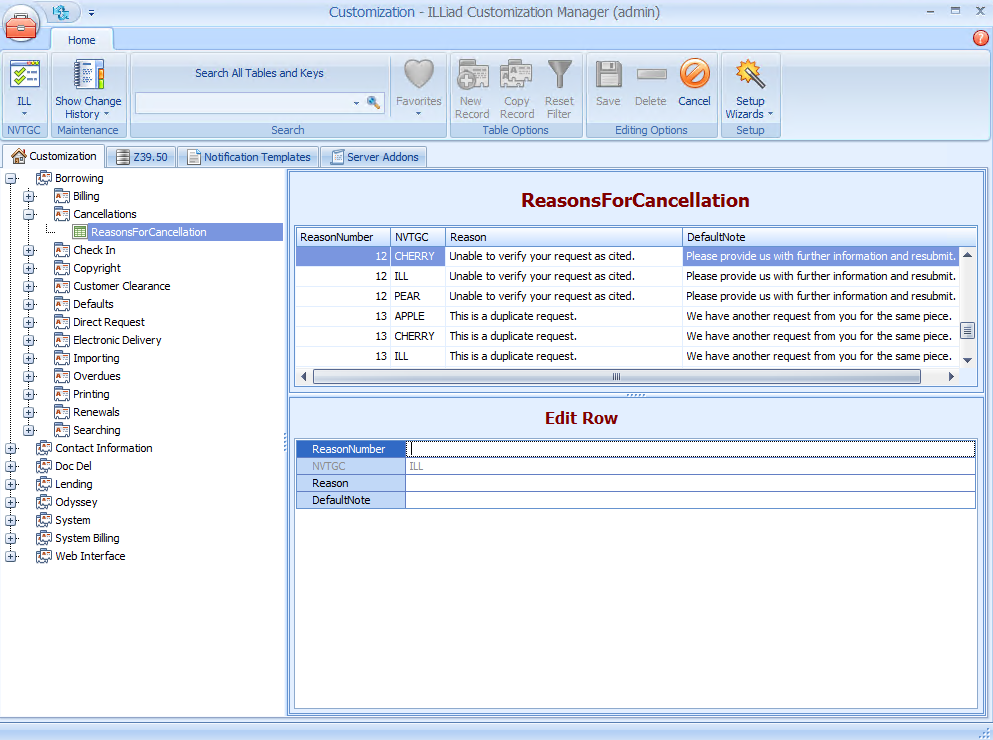 Removing Reasons for Cancellation
If one of the reasons for cancellation no longer applies to your institution, it can be removed from the reasons for cancellation drop-down in the client.
To remove a reason for cancellation, highlight the reason and then click the Delete button on the ribbon.