The Main or Search Ribbon holds icons and search boxes so you can quickly and easily find requests, users, or addresses.
Search requests using Number, User, or Citation information

Restrict results to Borrowing, Doc Del, or Lending
Restrict results to Active, Checked Out, Cancelled, or Finished requests

Search users using Username, Name, or ID
Search addresses using Symbol, Name, or Address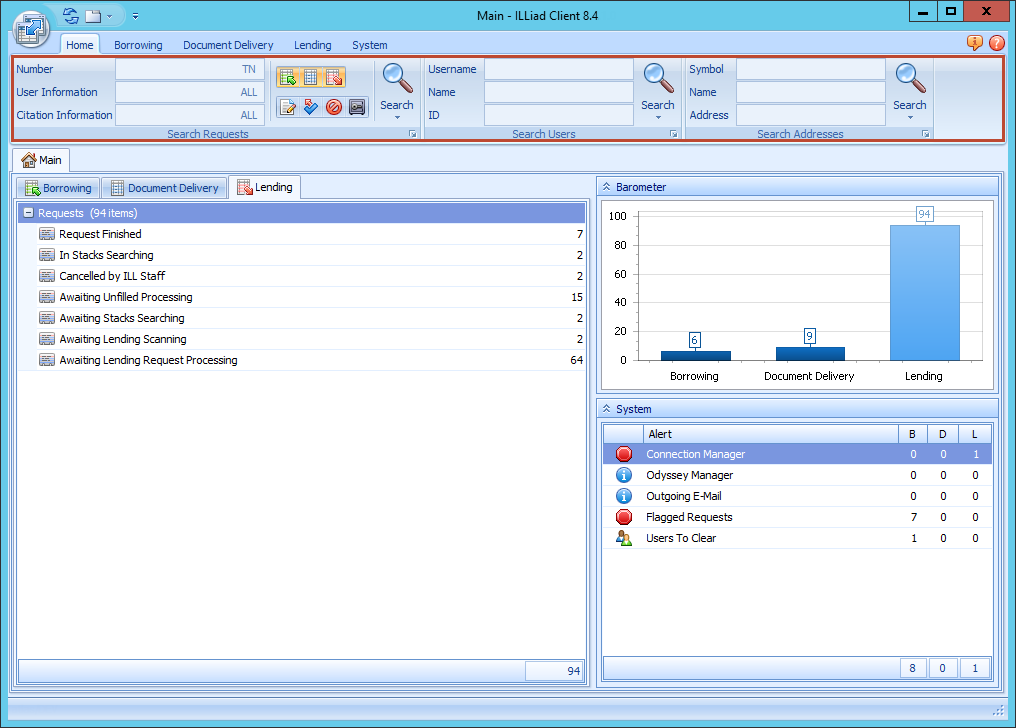 From the Home tab on the Main page, staff can conduct a quick search to find a particular list of users, requests or institutions. View which database fields are being searched for each type of search by hovering over the searchboxes. You can expand or narrow the scope of a search by using multiple search criteria. Results for searches appear in separate tabs on the Main page so staff can easily flip between results without opening several forms.
Search Requests
Allows you to conduct a search for request transactions. Lists all requests by Transaction Number.
Searches can be limited by Module or Status by selecting an icon in the Search Requests box.
Search Users
Allows you to search for specific user(s).
Search Addresses
Allows you to search for libraries and sites.
Custom Request Searching
In addition to the basic searches, staff can expand the ribbon to a custom search form and search all
the database fields simply by clicking the Custom Request Search arrow in each search box. These custom
queries can be saved and reloaded later or shared with other staff or institutions. The results can also be exported in a variety of formats.
Context-Sensitive Ribbons
In addition to the standard ribbons, ILLiad offers context-sensitive ribbons that appear dependent on the status of the request or user. These ribbons come to the foreground automatically and help prompt staff toward the next step in processing. Staff can always choose another ribbon to override those processes. See the figure, Content-Sensitive Ribbon, for an example of the content-sensitive ribbon displayed for a request transaction in the Awaiting Request Processing queue. Note the highlighted ribbon tab at the top of the page, (in this case, Borrowing Processing) informing you exactly where you are within the processing system.
The ILLiad ribbons are a default design and are not customizable.
Toggle Buttons
Some of the icons on the ILLiad ribbons are Toggle Buttons that work to limit the results of a search or action. These buttons will not perform a function when clicked, but they will make performing the function easier.
Toggle buttons turn orange when they are activated. Two examples of toggle buttons are shown here: the Search Ribbons icons toggle buttons, and the In Stacks Searching Only toggle button used in Document Delivery.