The Aeon API allows developers to perform actions in Aeon and build integrations outside of the installed Aeon components. For example, the API allows the developers to connect to the database and change a transaction status.
Installation
Using the Aeon API requires Aeon version 4+. The Aeon API requires the DotNetCore components. This installer is provided by Microsoft.
Note: Aeon API and DotNetCore are not part of the default Aeon install.

The latest installer for the Aeon Web API is available on the Aeon Downloads page.
Please contact Atlas Systems at 1-800-567-7401 x1 or service@atlas-sys.com for the credentials to download the installer.
Service hours are Monday through Friday 8am-5pm eastern time, excluding Federal holidays.
Swagger Documentation
The Aeon API has developer oriented documentation built in. You can get to the API Swagger documentation at https://servername/aeon/api/swagger/.
*Replace 'servername' with the IP address or DNS.
Available Endpoints
To use the reshelved endpoint, you must first update your Aeon server and the client to version 4.1, then update your Aeon API to version 1.2.0 with the installer linked above. All other endpoints are available on the previous version of the Aeon API, version 1.2.0. 
Available endpoints noted on the image below: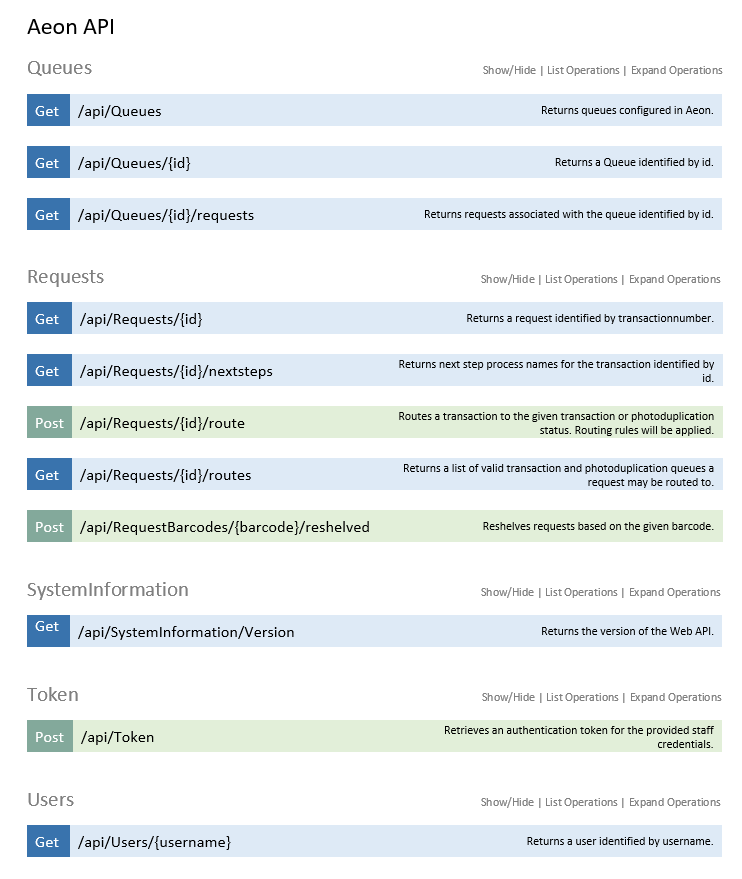 Authentication
Most of the actions will require authentication. There are 2 ways to authenticate in the Aeon API: Aeon API Key or staff tokens.
API Key
You can create an API key in the Aeon Customization Manager. More information on API keys is available at Configuring the Aeon Web Platform.
The Base Webservice URL isn't relevant for the API so you can just enter the API URL: https://yourservername.aeon.atlas-sys.com/aeon/api/.
Staff Token
The staff tokens will use the POST Token operation where you'll post an Aeon staff username and password. It will return a token which should be used as a BEARER authentication header.
Testing the Authentication
To test in the swagger interface, you can click on Authorize in the top right corner of the swagger interface. A pop-up like an image shown below will appear.
The first option (Name: X-AEON-API-KEY) is for the API Key; Just paste the API key directly into the value and click authorize and you should be good.
For the staff token authentication, note that it currently has a 5-minute timeout. You would need to POST to the Token operation to get a JWTvalue. In the swagger interface, you would enter BEARER <JWT value from Token response>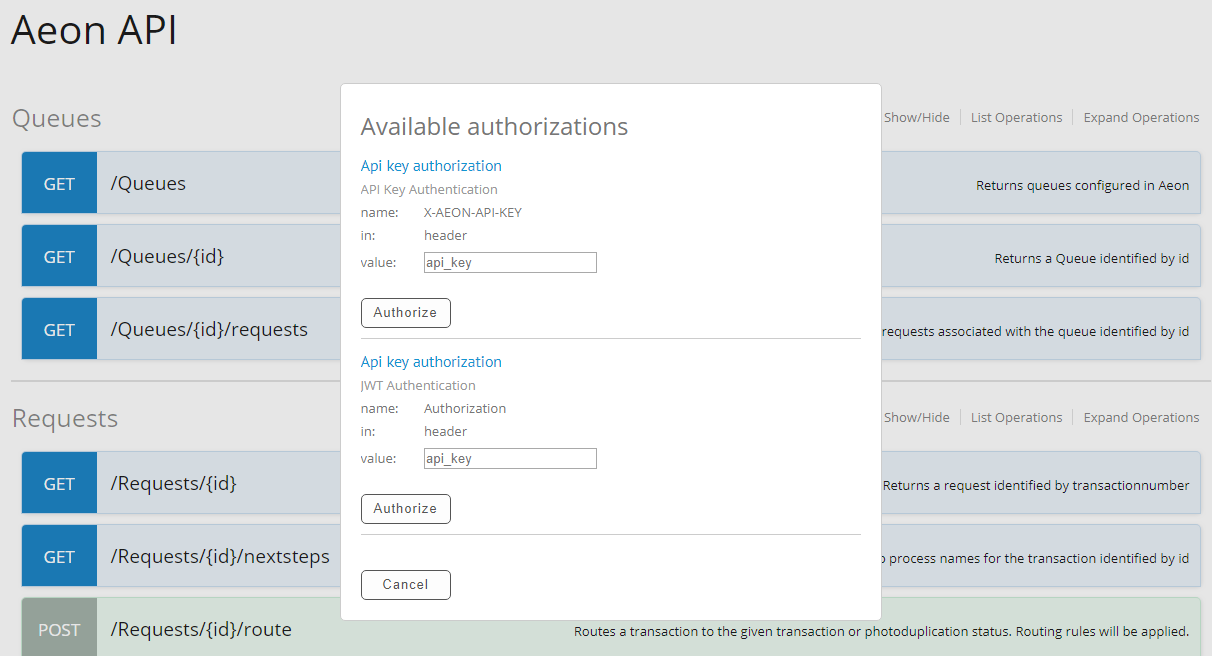 Additional Information
If there is specific functionality that you are looking to use to integrate with your services, we encourage you to submit enhancements & ideas to Uservoice at https://uservoice.atlas-sys.com/. Thanks!