You can search your local catalog as well as any Z39.50 compliant system using Aeon.
Starting a Z39.50 Search
To start a Z39.50 search of your ILS, open an item Request form and click the Z39.50 Search button in the Home ribbon bar. This opens the Z39.50 Search form and context-sensitive ribbon. There is a space below the Z39.50 Search tab that will hold search results in a grid. Below the grid spaces to view the original Aeon Citation and the Location, Call Number and Availability of any matching items.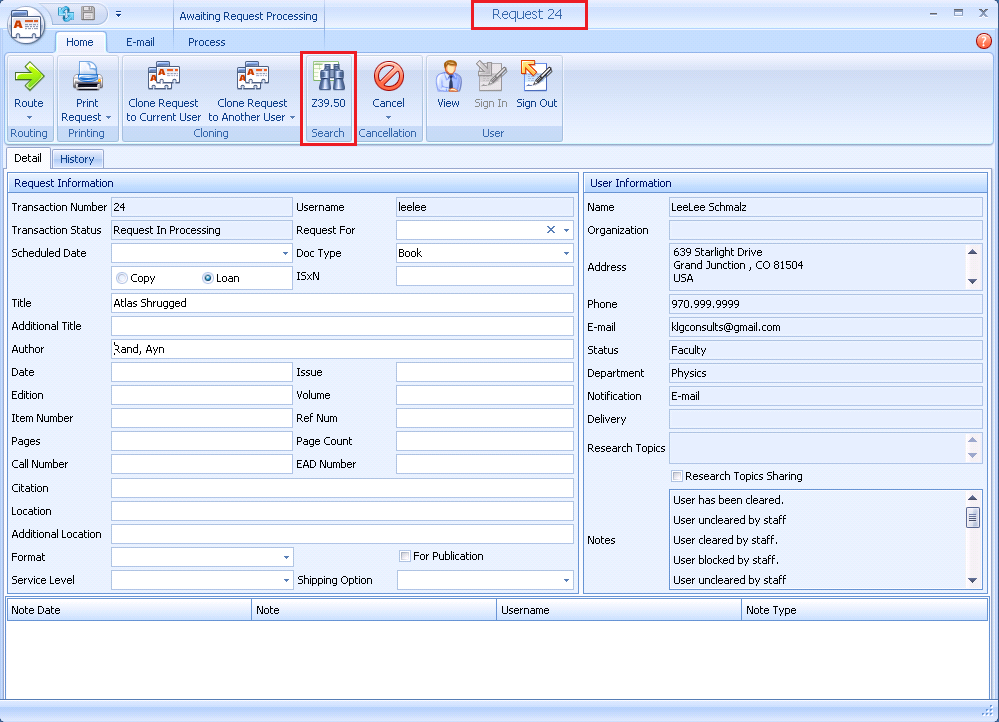 Conducting a Z39.50 Search
You can search any of the standard searches by clicking the search button next to any of the pre-filled search boxes. You can change the information in the search boxes to narrow your search if necessary. You can also perform a custom search using the custom search icon to the right of the search box. All found search results are shown in a grid under the Search History box. Searches that obtain no results display a blank grid where results would normally show. A list of all matching items at the bottom of the form now shows the Location, Call Number and Availability of a selected search result. Note that the search fields in the Z39.50 Search tab are automatically updated when request items are added manually or request information is edited.
The search buttons are disabled until a Z39.50 search configuration has been created in the Customization Manager.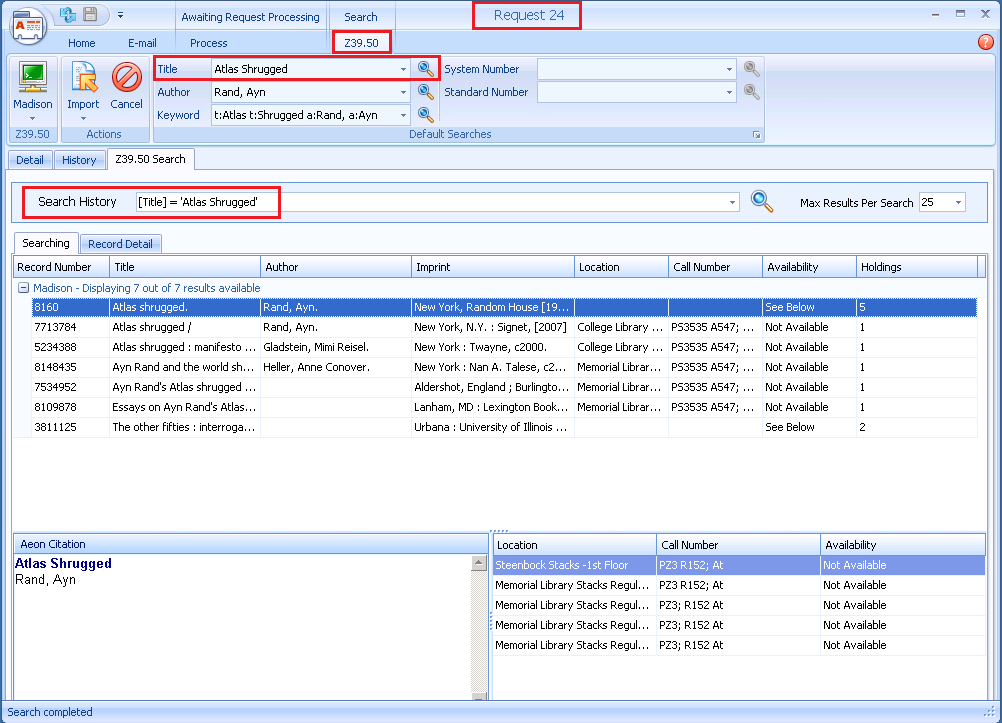 Viewing Z39.50 Search Results
To view record details, select the record you wish to see and click the Record Detail tab. Records can be viewed in either MARC or Text format. Click the Display Format on the bottom of the form.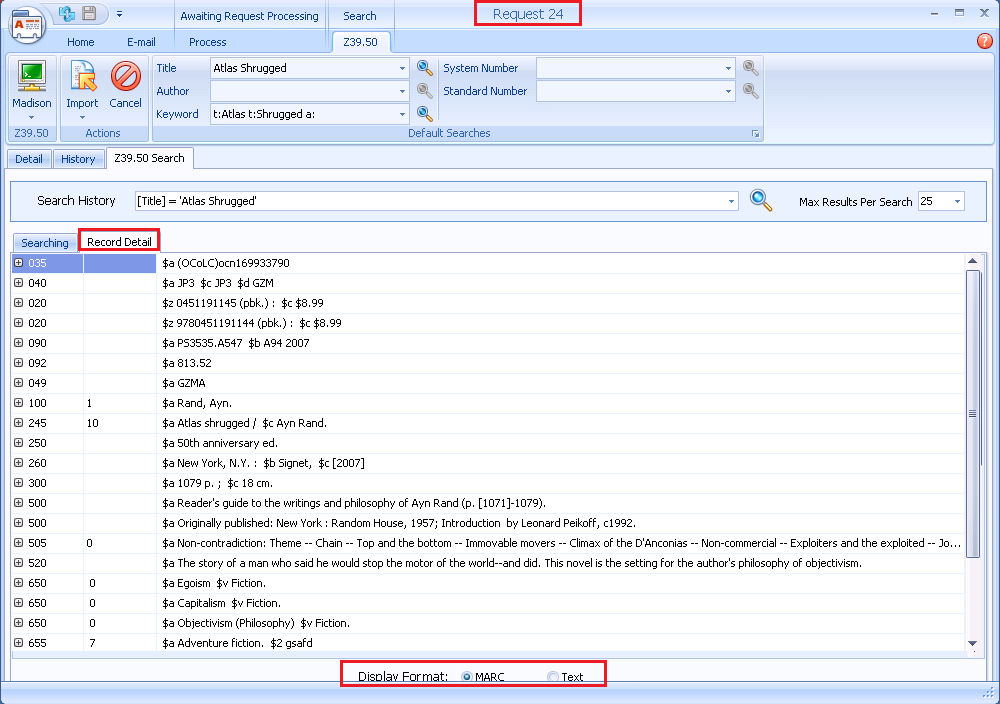 Importing Z39.50 Information
When you have found the correct search result, you can import the citation information into Aeon using the Import button on the Z39.50 ribbon. Call Number and Location are imported to the proper Request Information fields on the Detail tab. If the title of the chosen search result is different from the original citation, Aeon will import and save the new title. If the item has a long title, the complete title will be imported to the Request form. Aeon takes you back to the Detail tab of the Request form when you click the Import button. At any time you can click the Detail tab from the Z39.50 Search form to return the Request Form, displaying the Process ribbon, and continue processing the request.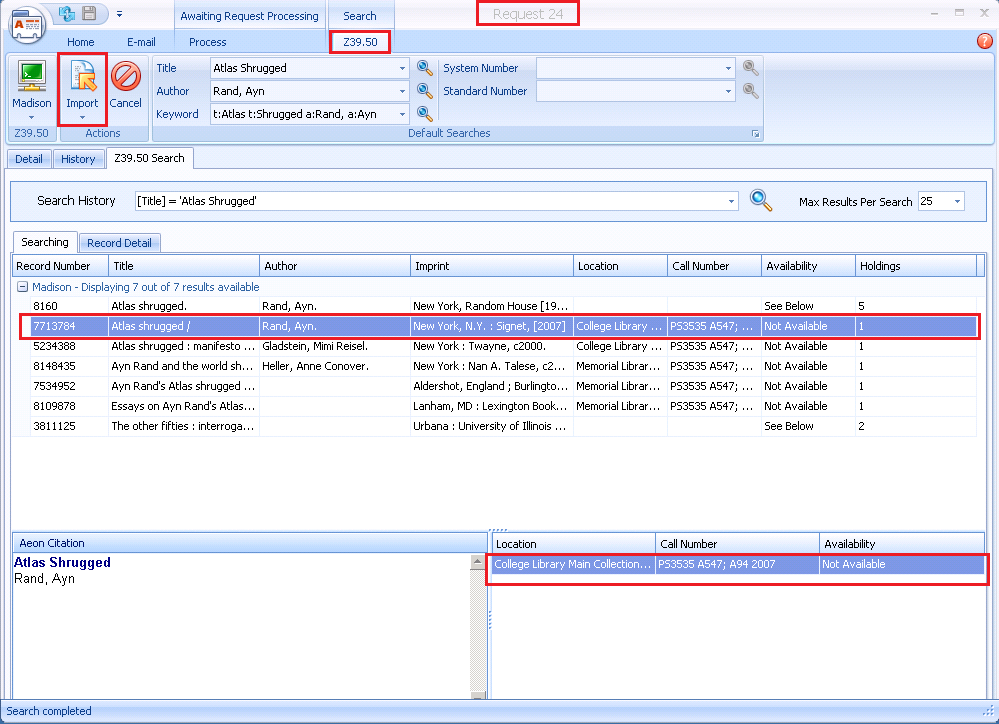 The Search History box can be used to reload previous searches for the request. Select the search in the Search History field and click the search button.
Double-clicking a search result will take you quickly to the Record Detail view.