The following Q&A was transcribed from the Atlas AMA (Ask Me Anything) held on March 19th, 2020. In the Live Webinar, Atlas Staff discuss how the COVID-19 coronavirus pandemic may be affecting your Aeon, Ares, and ILLiad workflows and any ways to help to face these challenges.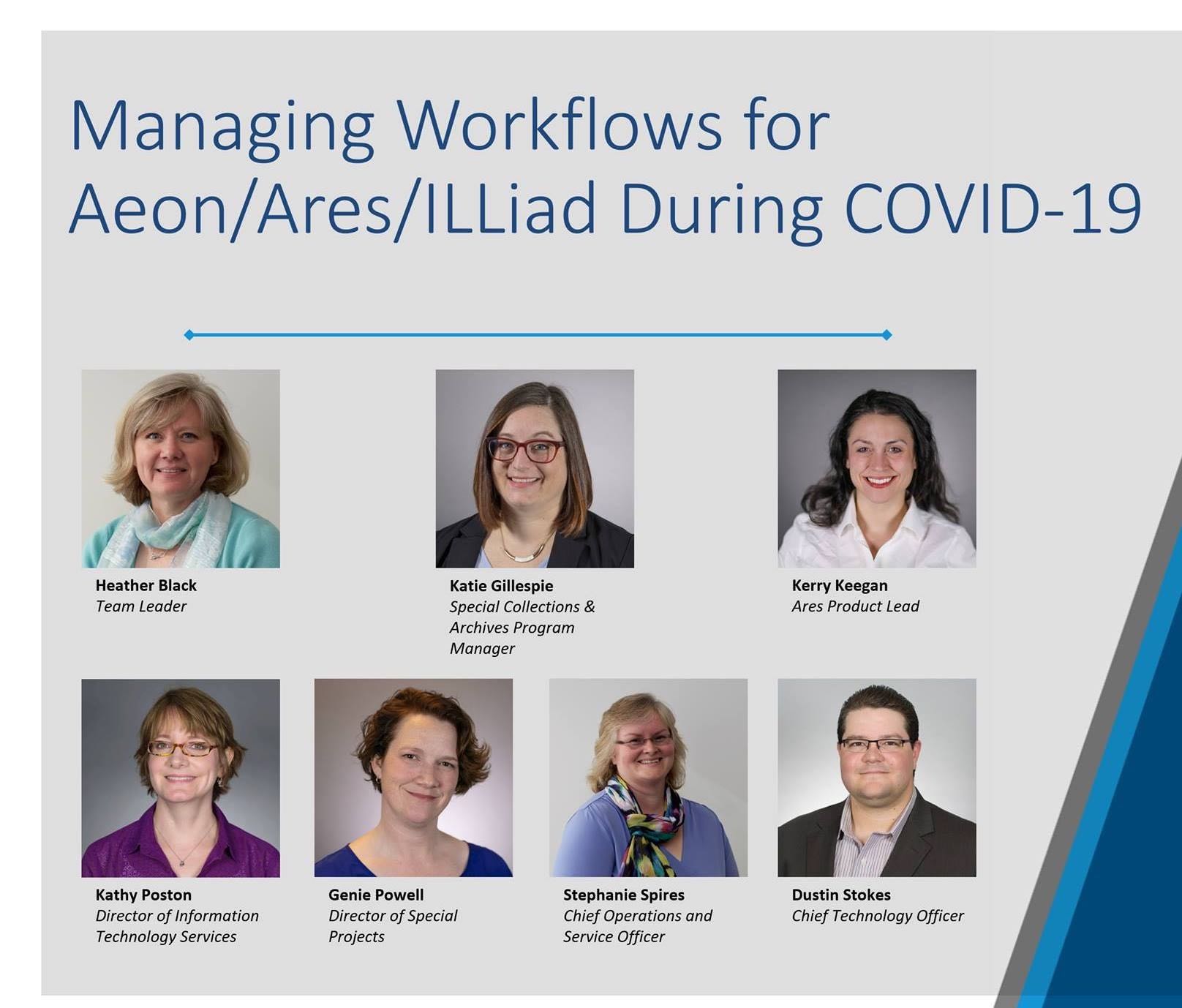 Helpful Links
Please see the frequently asked for links during the AMA webinar:
Questions & Answers
General
How do we get access to the Video Training Library?
Send an email to support@atlas-sys.com and ask for the free trial. Atlas is offering free access to the entire VTL through June 30th , 2020.
We are self-hosted for both Ares and Illiad, is there a way we can use both clients without VPN?
It's going to be up to your server administrators on how they restrict traffic. If you're connecting from home and using WIFI, your IPs will change constantly, which is why the VPN is a way to get a static IP that your admins can allow through their server.
If you can't use a VPN, could you potentially remote desktop (RDP) into your workstation at the library?
Will Atlas still be having the webpage class on April 7th-8th?
Yes! There is still room if you want to sign up! To register for this course, see ILLiad Innovation Lab: ILLiad 9.1 accessible and responsive web pages. To see a full list of Atlas hosted training sessions, see Atlas Systems on Eventbright.
Is there a way to change the color of a web alert? By default, the alert shows up in black so it doesn't really stand out.
When Creating Web Alerts, you can use HTML to change the colors. This process is the same for Ares, Aeon, and ILLiad. The HTML coding will need to be added to the web alert message in ILLiad/Ares/Aeon instead of adding directly to the web pages themselves.
Aeon
(time stamp 05:16)
How does an Aeon scheduled closure impact Special Collections staff who are needing to place requests? Would staff only be able to place requests for personal or activity use through the Aeon client (as opposed to through either our catalog website or Aeon client)?
If you gray out all the dates on the web, the only way to schedule a request is via the client. On the web, a request could still be submitted to the "Awaiting User Review" queue.
Ares
(time stamp 11:08)
How can flag items currently listed as "Available at Reserve Desk" to a temporary holding queue until the temporary delay at my institution is over?
A new status may be created in the CustomQueues table of the Customization Manager. You may elect to have the status act as a Flag or as a queue. For more information, see Managing Ares Workflow During COVID-19.
ILLiad
(time stamp 18:40)
If we're an ILLiad hosted library who is currently having IP range issues with our VPN (OCLC/our IT are working on it), can we use WorldShare as a "lite" version of ILLiad to cancel loans, and fill article requests through the standalone Article Exchange website? We are not clear on how WorldShare and ILLiad connect/interact.
We have some workflow charts that show the intersection, but it's going to be tricky to maintain both at the same time. You may want to take a look at setting up one of the new server addons and keep that going for ILLiad, even when you're not. For Borrowing loans - prevent them altogether by adjusting the web pages. That way you're just handling the bare minimum of electronic articles. When you get back into ILLiad, look at the status of the OCLC request in each transaction and manually route the transaction to the corresponding status. I'll grab that link to the workflow chart for you. For more information, see the Lending Loan Workflow chart. Note: The red text on the chart indicates where WSILL gets updated.
Are the add-ons installed by default for ILLiad customers hosted by Atlas or do we need to request them if we want them installed?
Addons are not installed by default, but we are happy to help install them for you if you contact us at support@atlas-sys.com.
Server addons are installed via the ILLiad Customization Manager. For step-by-step installation instructions, see Configuring Server addons. For a full list of ILLiad addons, see the ILLiad Addon Directory.
In the Auto-Renewals server addon, how can I set the due date for Borrowing?
The Addon will use your existing process to set the due date for borrowing. In other words, it is automatically sending the OCLC request for renewal, but you would still need to wait for the lender to respond and process as usual.
Is there a way to bulk change due dates (in Borrowing and in Lending), regardless of whether we get renewal requests or not? Will it go through OCLC and be updated too?
Not at this point, but you can turn off the Overdue notices so that users aren't getting notifications and then add a note to the top of the Checked Out page with a custom message (e.g., do not to return items until the library is open again). The Lending request will go through to OCLC and be updated. Borrowing will just send the Renewal request for the lending library to reply and you'll process as you currently do.
To vote for the Adding Lender Renewals enhancement idea, please go to UserVoice idea and click the vote button.
If all the sites don't want the same renewal due date for multi-sites who are using server addons, can you upload multiple server addons for the same addon but each one would be for a different site instead of listing each site code within the one addon?
Yes, you can install multiple copies of the system addon for each set of rules you want to use.
Can you use the test web if you are a shared (multi-code) site? It used to not be the case. Where is the current documentation on it?
Yes, you can use the test web for Shared Server sites. For information on the test web, see Web Pages Folder Structure. Accessing the test web wouldn't be any different than accessing the test web for a single server; however, the location may differ if you don't have a default, out of the box, server set up. If you want to send an email to support@atlas-sys.com with AMA in the subject, we can work together and either get in touch with your server admin to help locate the new location of your test web.
Can I test the ILLiad 9.1 webpages on the test web while we are still a 9.0 site?
Unfortunately, the 9.1 web pages require the changes made in the ILLiad 9.1 DLL to work. However, ILLiad 9.1 will still work with your existing pages so you can continue to use those while you experiment with the 9.1 pages in your test web after upgrading.
How do you get to the ILLiad test web to play around with the web pages?
First, you must be on version 9.1 to get the pages to work because the 9.1 dll installed with the update has required changes to properly display the pages. Next, download the 9.1 default web pages and load them into the test web.
We are trying to do things from home, but are having software problems. Who is the best POC?
Please contact your ILLiad hosted service provider or your local IT department for access to ILLiad from home. You may also contact support@atlas-sys.com with AMA in the subject line and we'll see if we can help or properly direct your questions.