Semesters in Ares help staff keep track of courses and items. All semesters must have a start date, an end date, and an item addition date, which determines how early before a semester starts that reserve items can be posted to a course. Consecutive semesters can have overlapping dates, if needed. Ares course semesters are created and maintained in the Semester Maintenance tab in the Ares Customization Manager. Once you have added the semesters to Semester Maintenance, staff and Instructors can create courses for those semesters.
Creating a New Semester
In the Ares Customization Manager, click on the Semester Maintenance tab.
Click the New button or click in the top row labeled Click here to add a new row.

Fill in the table values:

| | |
| --- | --- |
| Semester Name | Name the semester. For example, Fall 2016. |
| Start Date | Select the start date of the semester. |
| End Date | Select the end date of the semester. |
| Item Addition Date | Select a date less than or equal to the Start Date. |

Click Save. The new semester will be highlighted in yellow until saved.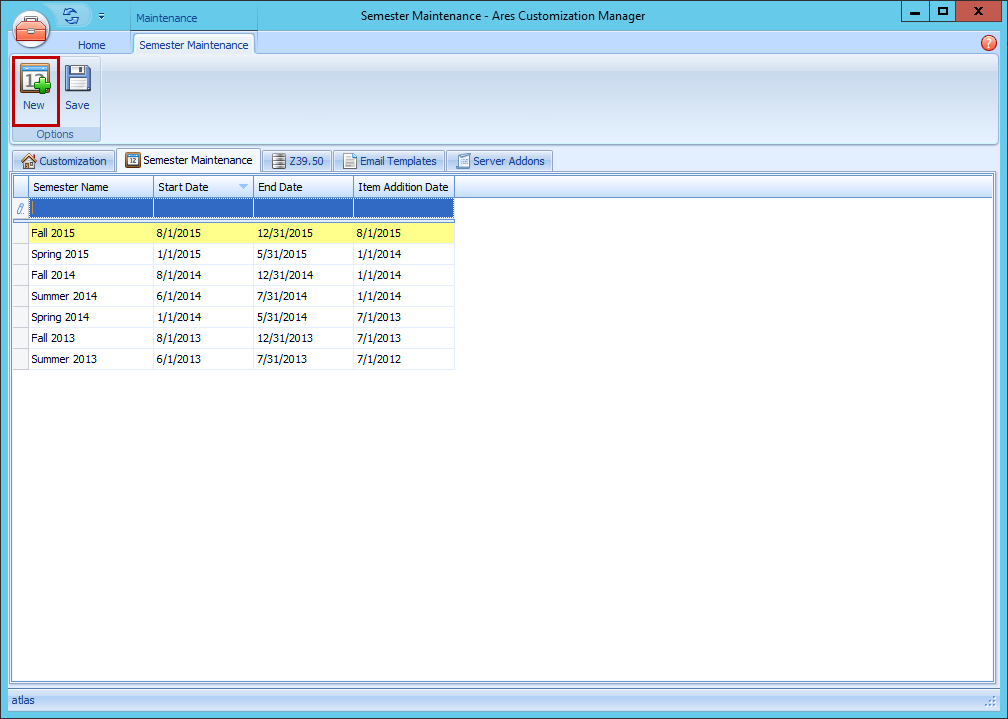 The Installation Semester included on the form by default can be used as an example and can be modified to be a legitimate semester.
Modifying Existing Semesters
When changes are made to a semester's Start and End dates, the changes are automatically updated to courses with the same beginning and ending dates. In addition to course changes, items having the same start and end dates (Active and Inactive Date) as their associated course are also updated when the course dates are changed. If the Start and Stop dates of the course are different than those of the semester, the course dates, and those of associated items, are not changed.
Select the semester you want to modify from the grid.
To modify the Semester Name, just type in your modifications
To modify any of the dates, select new dates from the calendars.
Click Save. The changes will be highlighted in yellow until saved.
Deleting Semesters
Semester entries cannot be deleted. Entries that have been entered incorrectly should be modified with correct information.